I have a Native Ultimate 14,5ft tandem fishing kayak. One of the first things I noticed when transporting it, was the oh-not-so-flattering sounds when driving faster then 50 km/h (approx 30 mph).
At first, i thought it was the sound of the air going between the kayak and the top of my car. (note: i drive with the kayak upside down on the roof rack)
After much frustration and some 4-5 hr drives, I got a tip about twisting the cargo straps when mounting it. It could surely not be this easy? Oh yes.. Finally did it! No more unnecessary whistling and «ooooh»-ing from my boat on long drives.
Picture: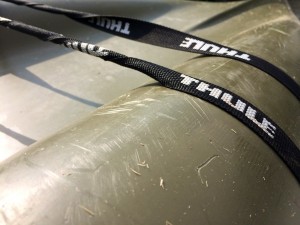 Happy fishing!